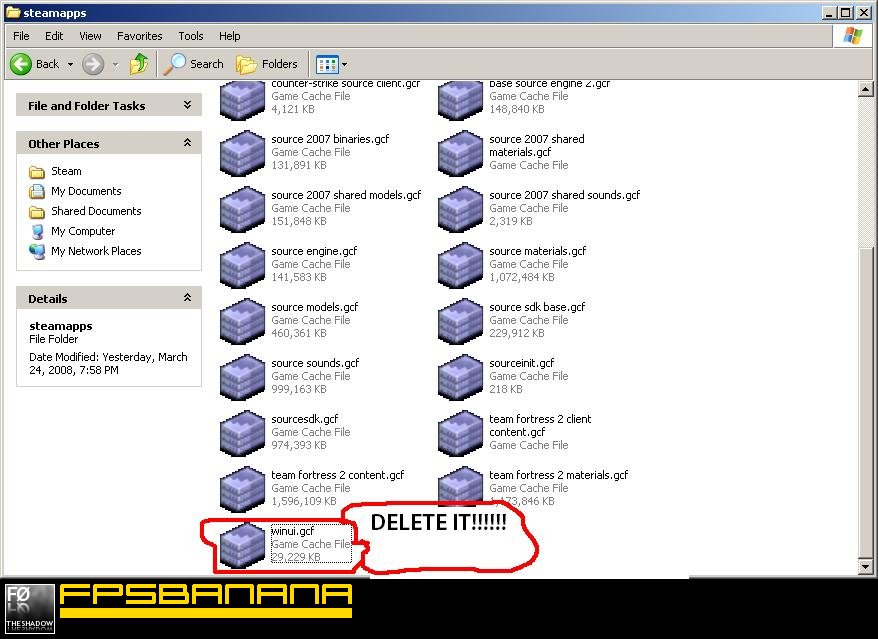 This tutorial has been made fully by Me.
Questions. 1.Why doesn't my steam's Auto-Login Thing when i try to check it, it still wont work? 2.When i delete a game(s) On steam, next time i login They come right back on it? 3.Why Doesn't my Friends in-game overlay work in my games? 4.Why Does my Hl2 client crash inside These games Cs:s, Tf2, hl2:dm, hl2, and other games?
Answers. 1.Because, Steam might need to be restarted every now and then, or you must delete The winui.gcf. 2.Because, steam might need to be restarted every now and then, or you have to delete the winui.gcf. What is the winui.gcf? It holds all the configurations of steam, your favorited servers, games you have downloaded in the past, And keeps the things what steam has, Friends menu, support menu, server menu, and etc. 3.Because, You might have an Anti-virus protections that might thing Friends in-game overlay is a riskware, How do i fix it? You might have to update that software, get a new one or Just leave it as it is. 4.Most likely it might be from Your computer not handling the System requirements,Or you need to update your drivers!
More details to Answers 1 and 2 How do i find winui.gcf? Well since its a gcf you need to download gcfscape at Gcfscape Now that you have Gcfscape
Shut down steam
Goto C:\Program Files\Steam\Steamapps Now in steamapps you see Gcf folders of all the models sounds etc to the games you have Now in that folder Find the one called winui.gcf And delete it. Once deleted Run steam again And you will have steam almost like a fresh new start! But except that you still have your games installed!
Well thanks for reading i hope you enjoyed, and got this to work!
For extra support on updating drivers read down here.
Just goto the website And scroll down and you will get the information you need Driver update!